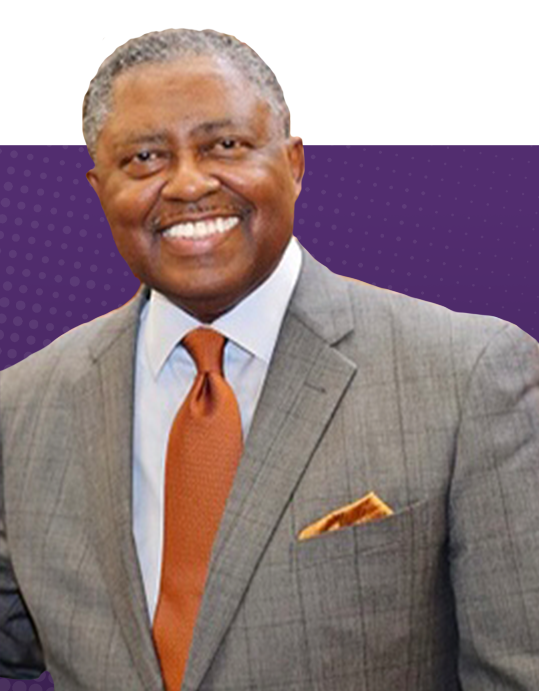 The Rev. Dr. Eldridge Spearman

The ministry of Pastor Spearman began at the Mount Jezreel Baptist Church, formerly of Washington, D.C., now located in Silver Spring, Maryland.  Pastor Spearman was licensed and ordained at Mount Jezreel under the leadership of the late Rev. Dr. Harold E. Trammell.  In September 2002, Pastor Spearman succeeded Dr. Trammell as Senior Pastor, becoming just the seventh pastor in the Church's 147 year history.
Pastor Spearman received a Bachelor of Science degree from the University of Maryland and a Master of Divinity degree from Howard University School of Divinity. Pastor Spearman received an honoarary Doctor of Divinity from the Richmond Virginia Seminary of Richmond, Virginai.  The Howard University Divinity School  recognized Pastor Spearman's work in ministry by awarding him their Pillar of Faith Award. In 2013,
Prior to returning to Mount Jezreel as the Senior Pastor, Pastor Spearman served as pastor of two Washington, DC congregations - First Baptist Church, Minnesota Avenue, SE and Macedonia Baptist Church in Anacostia.  He teaches institutes and workshops for Mount Jezreel and other churches in the Metropolitan area.  He formerly served on the faculty of the Washington Baptist Seminary.
During his ministry at Mount Jezreel, a number of ministries were established under his leadership including but not limited to: a Christian School; site for hosting Summer Freedom School (in cooperation with the Children's Defense Fund), Young Adult Ministry; Stephen Ministry; Accreditation of the Koinonia Bible Institute; Missions Ministry to include short-term foreign and domestic missions trips; Healthy Temple Ministry; Debt Free Ministry; just to name a few; and the creation of a church environment focused on serving Jesus Christ for the Kingdom of God.
Pastor Spearman was committed to feeding all of God's children – body, mind, and spirit – so that no one goes hungry.  Under his leadership many ministries that provide an opportunity to share God's love by meeting the hunger needs of those in the community were established.  This included a Food Bank in association with the Capital Area Food Bank, a Food Pantry to address emergency hunger needs, a distribution center for the SHARE network, and an on-going feeding program of individuals in homeless shelters and nursing homes.
Under the guidance of the Holy Spirit, Pastor Spearman was instrumental in the church publishing a Book of Miracles which chronicles testimonies from church members that encourages, witness and provide inspiration to anyone facing a mountain of obstacles, pain, and struggles to reach a place of healing.
In 2003, Pastor Spearman, in collaboration with the late Dr. Harold E. Trammell, organized the Church Alive Ministry Leadership Conference/Institute.  This Conference/Institute is a five-day teaching and preaching seminar in which the work of the Church is defined and described according to the New Testament.
Again, being led by the Holy Spirit and Pastor Spearman, Mount Jezreel broke ground on a 75-unit senior housing facility on the campus of Mount Jezreel Baptist Church in April of 2017.  This facility was completed by summer of 2018 and the ribbon cutting ceremony was witnessed September 8, 2018.
Pastor Spearman is married to his college sweetheart, Jackie, and  they have two adult daughters and one grandson.
Pastor Spearman's leadership and ministry were rooted in the principle of this scripture "...we preach not ourselves, but Christ Jesus the Lord ..." (2 Cor. 4:5).